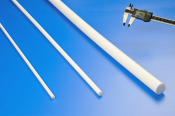 25% GLASS FILLED SR & PG
STRESS RELIEVED (SR)

PTFE is Stress Relieved so that on machining tighter tolerances can be achieved.


Using our oven in Rotherham we can utilise the standard stock and have material available within 7 days. If no stock is showing available please contact our Sales Office


PRECISION GROUND (PG)


By centre-less grinding the outside diameter of the Rod Gapi can offer Precision Ground Rods, usually on a 0.05mm tolerance. Please contact the Gapi Sales Department if the size you require does not feature on our stock list.


| Stock Code | Description | Dia |
| --- | --- | --- |
| Gapi Code | Filter by Dia | Dia |