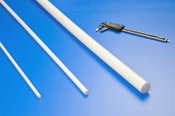 VIRGIN SR & PG
STRESS RELIEVED (SR)


PTFE is Stress Relieved to enable tighter tolerances (+/-0.05mm) on machining.


Using our oven in Rotherham we can utilise the standard stock and have material available within 7 days. If no stock is showing available please contact our Sales Office.


PRECISION GROUND (PG)


By centre-less grinding the outside diameter of the Rod Gapi can offer Precision Ground Rods, usually on a 0.05mm tolerance. Please contact the Gapi Sales Department i f the size you require does not feature on our stock list.


| Stock Code | Description | Dia |
| --- | --- | --- |
| Gapi Code | Filter by Dia | Dia |