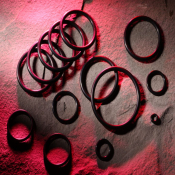 PRICING
In this section you can see the comprehensive range of sizes that are available, and registered account holders will be able to enquire upon pricing.
We are in the process of building up stock of the more popular sizes/compounds so you will also be able to see if we can deliver next day. Where we need to manufacture, delivery will be 2 weeks if we have the tool in our extensive list, or 3 weeks if we have to make a new one.
If the size you are looking for is not shown please call with your enquiry. We are continually adding to our tool list so we may have the size to suit your requirements.
Check our Tool List here: BS Sizes or Custom Sizes
** Note due to the shrinkage rates of the High hardness, specialist compounds F226 / F227 / F225 / F235 / ED105 / 300B AED / T128 / 316B AED / HN114 & Aflas F229 AED the finished size tolerance band could be approximately 1% larger than standard ISO 3601 / 1 class A inside dimension and cross-section**
| Compound | Stock Code | Description | BS Ref | ID | CS |
| --- | --- | --- | --- | --- | --- |
| Compound | Gapi Code | Filter by ID/CS | BS Ref | ID | CS |