BWA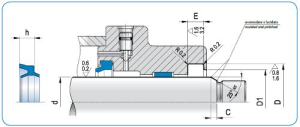 Also available in Nitrile (BWA/N)

The BWA sealing part combines an asymetric lip seal profile with a wiper.

Since it is installed in a single groove, the BWA seal hs several advantages, including the reduced overall dimensions and faster construciton of the groove.

The standard Compound is Polyurethane 90 Shore A (B0), but is also available in Polyurethane 85 Shore A (A0)



For further details, including assembly instructions, and a full list which includes other sizes available please download our Artic Catalogue.
| Stock Code | Description | Inside Diam | External Diam | Height |
| --- | --- | --- | --- | --- |
| Gapi Code | Filter by Inside/External Diam / Height | | | |