CSA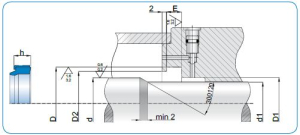 The CSA cushioning seal is designed for braking points at the end-stroke of pneumatic cylinders.

Several elements contribute to its increase efficiency:
- the scraping profile with lead in chamfer for better insertion
- the exteranl grooves granting auto-alignment
- the edge at the bottom of the cushioning
- the use of polyurethane ensuring a long service life.

The standard mateial is Polyurethane 90 Shore A (B0), which is a low compression set material and has good flexibility at low temperatures. Alternative material is Polyurethane 93 Shore A (C0).



For further details, including assembly instructions, and a full list which includes other sizes available please download our Artic Catalogue.
| Stock Code | Description | Inside Diam | External Diam | Height |
| --- | --- | --- | --- | --- |
| Gapi Code | Filter by Inside/External Diam / Height | | | |