SRS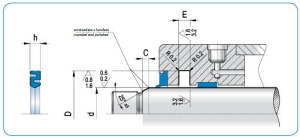 The SRS Rod Seal has been designed for pneumatic cylinder applications, but can also be used for pneumatic valves.

The profile is rounded in the middle of the dynamic lip and it has two projections on the static lip.

The symetric shape allows easier installation and the special spring shaped profile ensures high flexibility in the system even at low pressure.

Is available in Polyurethane SRS or Nitrile SRS/N. (FPM75 is also available on demand).



For further details, including assembly instructions, and a full list which includes other sizes available please download our Artic Catalogue.
| Stock Code | Description | Inside Diam | External Diam | Height |
| --- | --- | --- | --- | --- |
| Gapi Code | Filter by Inside/External Diam / Height | | | |