VSS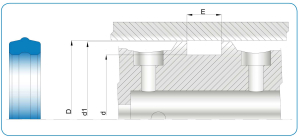 An innovative seal made from polyurethane which offers a more permanent solution to the commonly used O-Ring with anti-extrusion Thermoplastic or PTFE Ring.

The VSS Seal is a single seal made of a polyster based polyurethane material offering a high elastic modulus with an excellent compression set and low abrasion.



Please select here to view more details on this groundbreaking solution.





For further details, including assembly instructions, and a full list which includes other sizes available please download our Artic Catalogue.
| Stock Code | Description | Inside Diam | External Diam | Height |
| --- | --- | --- | --- | --- |
| Gapi Code | Filter by Inside/External Diam / Height | | | |