WAT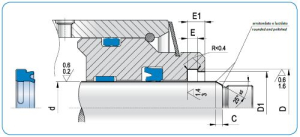 The WAT wiper can be self-aligned in case of rod misalignment during operations, thanks to its special profile and design.

It presents two lips and it is similar to a seal; the scraping lip is longer, very flexible and dynamic;the static lip is shorter and stops the impurity sticking to the blocking step.

The standard material is Polyurethane 93 Shore A (C0), but alternatives are available for heavy polluted environments.



For further details, including assembly instructions, and a full list which includes other sizes available please download our Artic Catalogue.
| Stock Code | Description | Inside Diam | External Diam | Height |
| --- | --- | --- | --- | --- |
| Gapi Code | Filter by Inside/External Diam / Height | | | |