WDA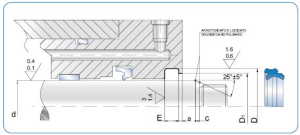 The WDA bidrectional wiper has a rounded geometry in the static part to promote the oil venting in the event of micro leakage.
It is designed to be an effective secondary seal at low pressure.
On the outer parts of the dynamic lips there is a strong wiping lip with a small radius, when in contact with the rod blocks any external impurities, and at the same time it makes the retreat of the oil film easier preventing it from remaining on the rod.
The standard material is Polyurethane 93 Shore A (C0).
For further details, including assembly instructions, and a full list which includes other sizes available please download our Artic Catalogue.
| Stock Code | Description | Inside Diam | External Diam | Height |
| --- | --- | --- | --- | --- |
| Gapi Code | Filter by Inside/External Diam / Height | | | |