WED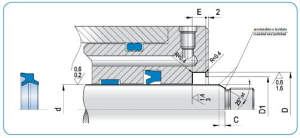 The WED bidirectional scraper has a combined scraper profile where the seal is provided with a scraping lip on the outside and a sealing lip on the inside.

The dimensions are interchangeable with a normal scraper housing.

The scraping lip is very flexible and compensates for misalignments of the rod. The sealing side has a stronger and longer lip to ensure the sealing performance, and to help the oil remain on the rod to back into the cylinder.



For further details, including assembly instructions, and a full list which includes other sizes available please download our Artic Catalogue.
| Stock Code | Description | Inside Diam | External Diam | Height |
| --- | --- | --- | --- | --- |
| Gapi Code | Filter by Inside/External Diam / Height | | | |